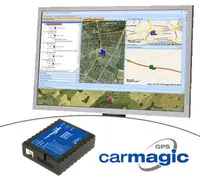 Logbooks of your vehicles via GPS.

Many companies and individuals want a simple system for recording electronic logbooks for their vehicle.
Fully automatic and timely data transfer to the computer not only allow individual choice, but also meet the latest demands of the German Tax Office.
Kasel iT in cooperation with GPS CarMagic now offer a module that is also time-and money-saving both easy to use as well. Since already ten years GPS CarMagic offers customized IT solutions for the electronic recording of logbooks for car owners, which work-related or other reasons record their rides. Take advantage of this experience and thousands of devices already on the market and meet with GPS CarMagic the best choice this work on an electronic module outsourcing, such reviews in the trade press proof. Take advantage of the full savings potential of a logbook solution to the GPS CarMagic live, with features such as curve detection, split rides or tunnel automatic, to make the logbook automatically as accurate as possible. These opportunities offer them only the GPS CarMagic. And if you should have, despite the convenient operation problems or questions, you can always contact our "Kasel iT" service technician and you will be helped immediately. This logbook is checked tamper-proof and meets all requirements of the German Tax Office to perform an electronic logbook. This not only saves you time and money, but also a lot of trouble, because the GPS CarMagic transmits all data completely automatically and in real time on your PC, and thus you can see all the data with a mouse click without tedious run to the car or have to search in old file folders. GPS CarMagic offers IT module in three different variants. The "GPS CarMagic live standard" including a 1 or 3-year flat rate, for €399, - or € €549, - €. In this flat, both the records and electronic updates and support are included by a technician. With the 3-year version will save you € 48, - against the one-year version in comparison. For all business customers and frequent work-related drivers, such as taxis, freight forwarders or chauffeurs recommends the "live CarMagic Business" module with a 3-year flat rate. There, additional extras are integrated, such as the possibility of a pool car solution. With these identifications can direct drivers to be set and thus differentiate between individual drivers and private journeys. Do not hesitate any longer and at odds with their old patterns around, you resort to the individual IT solution from GPS CarMagic back and let your driving record and experience of our technology. Contact us for more information and a live demonstration of the GPS CarMagic. In addition, we will provide you a module ready for testing, so that you can experience for yourself the benefits.
Accurate

logbook

recording

by

electronic assistants

Permanent

control over

your own PC

German

tax authorities

tested

and tamper-proof

No contract

already ten years of experience